A work tent is a tent construction that is used as a temporary roof, for example, for construction projects on roads, bridges or other constructions. It is possible to work on these projects under great time pressure (possibly 24 hours a day). The use of work tents means that the negative influence that the weather can have on the planning of projects no longer plays a role. As a result, the working conditions can be better planned with the aid of workaround facilities, such as a work tent.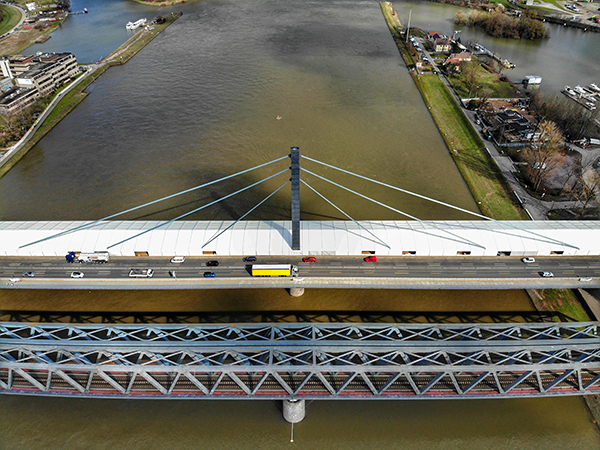 The possibilities of a work tent
The Ministry of Defence has been using the work tent for years, but the tent is now also suitable for roadworks. The tent can withstand extreme weather conditions, which means that the tent will stay upright even in strong winds. In the design and construction of work tents, the safety of both the user and the environment is paramount. In order to guarantee safety, use is made of built-in elasticity. As a result, large loads are converted into only small movements.
Properties of a work tent
The work tents designed by Tentech have the following properties:
The tent can withstand extreme weather conditions.
The preformed low-pressure tubes provide built-in elasticity.
The different sections can be connected and disconnected.
Damaged tubes can easily be replaced in the porch tent.
Tarpaulins create a pleasant working environment with sufficient light.
The tent is easy to set up without any additional tools.
The different sections can easily be moved with the project.
A tent from Tentech
Tentech is an innovative design and consultancy company in the field of lightweight construction. The focus of the architects and engineers is on textile constructions, temporary structures, complex geometries and the use of special materials. These are mainly the building materials of the future, such as cardboard, (printable) plastic and bamboo. Tentech occupies a unique position as a design agency and is often used for specific parts of a total project. The combination of modern craftsmanship and an eye for quality is of great importance. We also, for example, apply the knowledge and experience we have gained with membrane constructions in industrial processes and product innovations. Tentech is active worldwide. We have extensive knowledge of (inter)national laws and regulations in the field of permanent and temporary constructions. The team consists of architects, constructors, construction engineers, industrial designers and CAD engineers. With all the various areas of expertise under one roof, Tentech is happy to assist you from first draft to design.
For more information about work with tents or other lightweight roofs, please contact Tentech. You can reach us by telephone on +31 30 252 18 69. You can also send an email to: office@tentech.nl.